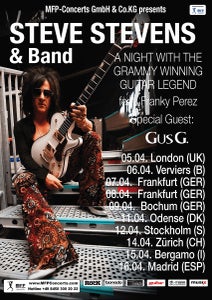 $

100.00
This listing is for a Meet & Greet package with Steve Stevens.
Meet & Greets will take place at the concert venue, right after the concert, on the 2017 Steve Stevens tour.***
You will get to meet Steve backstage, take selfies/photos, bring up to 3 (three) pieces of memorabilia to have signed (photos, CDs, records, posters, etc) and get a special limited edition Steve Stevens gift pack (guitar pick, poster, sticker, limited edition 2017 collectable Steve Stevens laminate). 
When possible, this will also grant you early access to the venue 15-20 minutes before the doors open to the public for preferred General Admission access.
Only a limited amount are being sold in every city, so purchase in advance to ensure access to the event before it sells out.
Meet & greets for each city will be closed approximate 7 days before the concert, to allow for processing & time to contact with instructions on how to gain access the event.
This package does NOT come with a ticket to the show, you must purchase your ticket(s) to the concert(s) separately.
This Meet & Greet is for Steve Stevens only & does not grant access to any other members of the band, but Josie Stevens will be in attendance as well & available to take photos & sign items as well.
A email will be sent within 7 days of purchase with details on the event, starting time, how to gain entry, etc...
Admits one person. If you would like to bring guest(s) you must purchase one meet & greet for each person attending.
*** (there is a small chance that some meet & greets could be held just before the concert begins if Steve's travel schedule requires it, but this is unlikely and all meet & greets will almost certainly be held right after the show.)